About Jerusalem Prayer Project
Whether from the streets of the Old City in Jerusalem, Baghdad, Rome, Paris, New York, Los Angeles or the Virginia countryside – JPP seeks to produce and aggregate content that tells stories of peace, reconciliation and environmental justice from a grassroots, uniquely interfaith perspective.
OUR VISION
Empowering peace building in the Holy Land and the world through prayer and the arts.
OUR MISSION
To provide a multi-media platform for original content; for musicians, artists, filmmakers and activists who are dedicated to peace-building from a uniquely interfaith perspective.
OUR TEAM
Stephen L. Fiske
Founder and Executive Director/Producer

Stephen Longfellow Fiske is the founder and executive director/producer of The Jerusalem Prayer Project. He is a musician, author, poet, Interfaith Minister and long-time peace and environmental activist. He has authored "The Art of Peace" (New Paradigm Books) and "The Call to Interfaith" and has performed and spoken widely across the US and abroad.
Stephen has produced 11 CD's of his music, most recently, "Flow" , a selection of original orchestrated, melodic guitar compositions with guest recording artists. The featured cut entitled "Jerusalem Prayer" has been the inspiration behind JPP and serves as its soundtrack.
Robert Corsini
Executive Producer/Director

Robert has worked in the news and entertainment industry for twenty-five years as a producer, writer, video editor and cameraman, specializing in documentary, news and public affairs content. His video work has aired on CW, Discovery, NBC, ABC, PBS, TVGN, Syfy, REELZ, Hallmark Channel, FoxRealty, and in syndication and feature on numerous political affairs and news websites such as Truthout, HuffingtonPost, and NewsmaxTV. He is a Los Angeles native, graduate of UCSB and a former Peace Corps Volunteer.
His diverse production skills, vision, creative passion, multi-cultural perspective and life-long advocacy for peace and justice issues, make him a great 'mover' behind the Jerusalem Prayer Project.
Susan Shankin
Art Director/ Designer

Susan Shankin is an art director and designer with 20+ years' experience creating original book design concepts and interior layout, and executed projects in book development, marketing collateral and creative brainstorming. She was the Art Director for the best-selling book, The Artist's Way. She has designed all aspects of online products including websites, electronic press kits, and e-mail campaigns.
Gavriel Fiske
Israeli Co-ordinator

Gavriel Fiske is a writer and percussionist. His musical, writing and scholarly activities largely revolve around the interplay between Jewish and Arabic musical traditions. Gavriel's writing has appeared in the Times of Israel, the Jerusalem Post, Jerusalem Report, the Cairo Times, and elsewhere. He currently manages an academic website focusing on Jewish music, studies ethnomusicology at the Hebrew University of Jerusalem, and teaches and performs throughout Israel. Originally from California, Gavriel lives in Jerusalem with his wife and two children.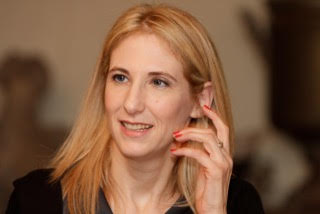 Dana Luria
Consulting Producer

Dana Luria is a Television Executive, Producer, Writer and Editor specializing in international content development and production. Dana worked for WB in Los Angeles as a manager in the World Wide Networks department. She later moved to Israel and works as a TV producer and writer for a broad range of international programming and tourism boards. Recently in Israel, Dana managed multiple channels including AXN (a Sony channel) and The Israeli Good Life Channel in the US.
Dana received her Bachelor's degree in Communications/TV Production from James Madison University and her Masters in Media Management from the University of Southern California.
Samira Abrar
Executive Assistant/Production Associate

Samira Abrar is a graduate of American University in Kabul with a degree in law. She has worked for USAID funded rule of law projects, supporting court systems in Afghanistan, for over 4 years. Prior to working with JPP, Samira has worked with CODEPINK-Women for Peace as Social Media Campaign Manager. With JPP, she has worked closely with Stephen and Robert, and the team, in developing all phases of the project.
OUR STORY
The Jerusalem Prayer Project (JPP), founded in 2015, is a Los Angeles based multimedia non-profit production company, designed to create original content and build a global platform for musicians, artists, filmmakers and activists committed to peace-building from a uniquely Interfaith perspective.
Inspired by the legacy of the alliance between Dr. Martin Luther King and Rabbi Abraham Joshua Heschel that gave the Civil Rights movement its sense of common cause amongst oppressed peoples, JPP endeavors today to carry on the dream by connecting the idea of peace in the Holy Land, with struggles around the world.Since its inception, JPP has been actively engaged in the following endeavors;Graphic Design and construction of The JPP website Original music production for film and video soundtrack, including the CD 'Flow' (2016)Travel and field production trips to the Holy Land to document diverse, grassroots voices for peace in 2017 and 2018 as part of our planned documentary series 'Warriors of the Heart'.Production of 'We Carry the Dream' Music Video Tribute to Martin Luther King (2018)Ongoing video (featurette) productions on themes of peace and reconciliation, global women's movements, Islamophobia and Anti-Semitism, including segments on the Women's March LA and demonstrations against Congresswoman Ilhan OmarCompletion Phase of ''Warriors of the Heart: Women Wage Peace" (first documentary of the series).
OUR STRATEGY
In 2019 JPP plans to complete its first documentary project on the 'Women Wage Peace' movement in Israel and Palestine and is seeking funding to that end.  'Warriors of the Heart: Women Wage Peace', tells a remarkable story at a remarkable time and after two years of development, field production and editing, the documentary project is entering the final stretch.  These women are creating a unique breakthrough towards grass roots engagement in the face of war, entrenched patriarchy and an architecture of separation. They are part of the rise of inclusive global feminism at the heart of a new wave of peace building in the Middle East.  JPP is committed to bringing their story and others to a global audience.From its inception in 2014 with a handful of women, 'Women Wage Peace' has grown to over 40,000 members.  It has become the largest, most dynamic and publicly visible movement for peace in the Holy Land, where thousands of Israeli and Palestinian women are courageously demanding that their leaders make 'peace' the highest priority.At a time when women around the world are rising up and assuming political and economic power in record numbers, as exemplified in recent US Congressional elections, the story of 'Women Wage Peace' connects to the broader sociopolitical transformations happening today such as '#MeToo' and 'She the People'.  It's about` women, facing tremendous odds, challenging the status quo of endless cycles of demonization, bloodshed and intractable divisions.  It's about hope, healing and inclusivity.